Johan van der Veer does not receive in his own home in Zevenaar, but in the apartment of his girlfriend Janny, 88 kilometers away. He met her after his wife passed away eighteen years ago while on holiday in the Black Forest and they have been in a relationship ever since. Van der Veer opens the door himself and heads quickly to the sitting room. The mayor of Zevenaar who came to congratulate him on his 100th birthday at the beginning of this month also did not know what he was seeing, he says. "Firstly, I was the first 100-year-old man he came home to congratulate, because 80 percent are women, and secondly, he hadn't seen the birthday boy welcome him before. Most 100-year-olds sit in their chairs because they have difficulty walking.' Not Van der Veer, who calls himself 'very healthy'. "I've never had anything wrong."
What is your secret that you are still perfectly healthy at 100?

'I would not know. In any case, don't move much, because I've never done any sports. Top sport is certainly bad for your health, because you then demand the utmost from your body. Maybe it's because I've never lived savagely, never drank and smoked much. I have smoked, and still do, occasionally. I also sometimes drink a glass of wine with dinner. You should not exaggerate. I've never been sick, not even the flu. I never go to the doctor, I don't even know him.'
And maybe a younger girlfriend?

"If I had stayed alone for the past eighteen years, I don't know if it would have gone well. Janny is sweet and caring for me.'
Did you consciously choose a LAT relationship?

'I would have liked it if she had come to live with me in Zevenaar, but Janny indicated that she does not want to get married and that she wants to stay in Montfoort, where she has lived for forty years and has all her acquaintances. And I am attached to my hometown. Let's do a lat relationship, she said. And I liked it best. We are with me the most. When I'm in Montfoort, I want to go home after a few days. Then I miss Zevenaar, and my chess club. I play chess twice a week. Once in the evening and once during the day, to the chess club for the elderly that I founded ten years ago. I have a gold pin from the Royal Dutch Chess Federation, because I have been a member for forty years.'
What is a new relationship like in old age?

'Different, much quieter. You have already lived a life with plans for the future and having children. Janny had butterflies in her stomach when we started a relationship, she didn't know what hit her, she said. In the year that my wife died of breast cancer, I went on a bus trip to the Black Forest. In the evening in the hotel restaurant, three friends were sitting at a table. When they saw that I was alone, they asked me to join. Johnny was one of them. It clicked right away. Janny hadn't had a good time and had never been to France. So we went with the caravan to France, where I had traveled every year for forty years, I know the whole country. She loved it.'
Are there things you can no longer do and miss?

'Two years ago my driver's license was no longer renewed because my eyesight had deteriorated. Damn, I'm getting old, I realized. Then I immediately sold the whole mess, the car and caravan, and bought about a 45-kilometer cart. That's what I do my shopping with. I miss traveling with the caravan enormously: the freedom and the adventure. Last summer I went to a hotel on the Moselle with Janny. A son brought us, another son picked us up again. You can wander around a bit in the vicinity of such a hotel, but you can't do anything else. You go out with a car. What I also miss is playing the violin in the chamber music orchestra. I stopped doing that two years ago. I'm a mediocre player, but I enjoyed the fun playing together and the performances. It hasn't been that great in the past year. I don't think they dared say to me: stop it, so I ended it on my own.'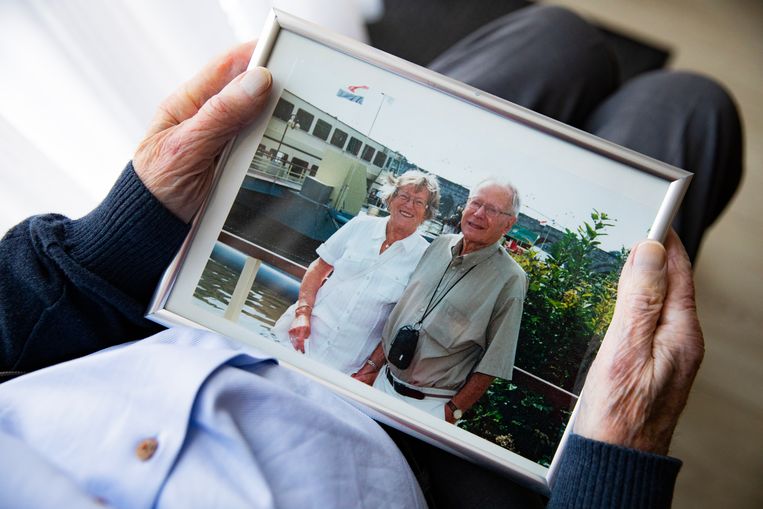 What kind of family did you grow up in?

'I am the oldest in a family of six children. My parents were strict Catholic, but not strict in their upbringing. My father worked at the railways and we could live on his salary, we were neither rich nor poor. He was first a shunter, then a brakeman, conductor and chief conductor. He was always moved to a different location, so we moved twelve or thirteen times in my youth. As children we were sometimes allowed on the train for a day and then we got a glass of lemonade at the station. That was then our vacation getaway and we loved it.
'If you look at that time with today's eyes, you think: how shabby and boring. In your spare time you played football, played games, bought liquorice for 1 cent in the candy store. And everyone went to bed early, around 9:30 am. They worked hard because almost everything was done by hand. Compared to now, life was dull, but you didn't mind and were content.
'If you look at the present with the eyes of then, you will see all those luxuries: television, telephone, washing machine, computer, vacations. And: individualism. It is now every man for himself and god for us all. People are not so nice and helpful to each other anymore. For example, those people who move from protest to protest to kick rubbish. Worthless. What purpose do you have in life then?'
Did you have a childhood dream?

'New. My strict Catholic parents sent me when I was 13 to the seminary of the Marist Fathers in Hulst, in Zeeuws-Vlaanderen. They wanted that very much and I thought it was fine. And now it comes. The war broke out and I was still there. The clergy wanted to flee from the Germans. With a few buses they left for France with students. Not everyone could join, I was one of the laggards. Some fled to England.
'I went to France by bicycle via Belgium with eight boys and a father. As we approached Dunkirk, we saw the bombing and the blaze. We were stopped by French soldiers who thought we were spies. They let us go the next day and then we quickly cycled back to Zeeuws-Vlaanderen. There was also fighting there, so after three days we fled back to France by bike. In Belgium it turned out that the Germans had already occupied the country, so we returned again.
'The seminar in Hulst turned out to be inhabited by German soldiers. We were allowed to join, they were nice to us. We had good food because the Germans stole food from the port of Antwerp. Now you may be wondering: how did this go on? At one point the Germans took over the entire building and then we moved to Overijssel. There that one father taught us philosophy and theology. The funny thing is that I was never called up to work in Germany during the entire war. I never understood that.'
Were you in seminary to become a priest?

'Yes, that was the intention. After the war we returned to the seminary in Hulst and then the priests asked what I wanted. I said I wanted to study chemistry. I started doing that at the University of Utrecht, meanwhile I continued to live in the seminary. During that study I was a bit unhinged. I got to know girls. That got me into trouble with the fathers. It got to the point where I wanted to leave. I felt encapsulated. I went to live in Nijmegen and was able to get a job there as a scientific assistant at the university. I also worked as a chemistry teacher at a college. Later I became a teacher at a laboratory course and the hts in Eindhoven.'
Your eldest daughter told me that you have been a priest for a while.

'That's right, at first, for a moment. But then I got into a fight and I left.'
Can you tell me what the fight was about?

'New. Maybe I'm hurting someone else with it and I don't want that. And it's only my side of the story. Another factor was that I thought some things were exaggerated. It was a straitjacket I was in, everything was pre-baked and there was nothing to talk about. I didn't like celibacy either.'
Did the conflict, and your choice to no longer be a priest, influence your religious experience?

"Partly yes. I've loosened up a bit from the Catholic Church, I've been away from it for fifty years. My wife remained religious and went to church. I went along every now and then for the fun of it.'
Do you still believe in God?

'New. I don't know who God is. Is it a person? Someone who controls everything? I don't think that's possible. All those nonsense stories of all religions about the origin of the world, I stick to the big bang.'
Johan van der Veer

Born: January 8, 1922 in Baarn
Lives: independently, in Zevenaar
Family: one sister (92), six children, seven grandchildren, four great-grandchildren
Relationship: lat relationship with Janny (88)