The measures that Australia is taking to eradicate the coronavirus are as harsh as they are effective. A few speak of a 'dystopian nightmare, but most people settle for it. "Twenty years of xenophobic and authoritarian policies have made people ready for it."
For three months now, 62-year-old Mark Bell from Melbourne has been confined to a radius of three miles from his home. In the two hours that he is allowed out every day, he is obliged to wear a mouth mask. Until recently, there was also a curfew: all 5 million inhabitants of the city had to be inside at 8 p.m. Many companies, including the hospitality industry, have closed their doors. Family, friends and colleagues have not seen Bell, a manager at a shipping company, for months. 'Life is really different this year,' he says, with a sense of understatement. Our contact is via Messenger, because the borders are closed for foreigners at the moment.
The Australian state of Victoria, and in particular the city of Melbourne, has one of the strictest corona regimes in the world. Five of the past seven months there was a very strict lockdown. The New York Times described the restrictions in Victoria as "perhaps the most drastic bureaucracy since the days when Australia was a penal colony."
Nevertheless, there is considerable agreement with the policy. Polls show that 70 percent of the residents of Victoria support the measures. "Yes, the policy is tough, but it is necessary," says Bell. 'The democratically elected government has a responsibility to protect us and they do. They rely on science, and the numbers don't lie. '
Australia was closed pretty quickly at the start of the corona crisis, and the virus seemed to be defeated as early as May. Yet it went wrong. Guards at the Victoria hotels where Australians who had returned from abroad were quarantined had become infected. The virus spread quickly through the city. At the peak, 700 new infections were counted every day.
Second lockdown
To quell this second wave, the Prime Minister of Victoria, Daniel Andrews, announced a shock and awepolicy. Since then, the inhabitants of the metropolis have been locked up in their houses for the second time. Last week, the daily grade dropped below ten and curfew was suspended. But an end to the lockdown will only be in sight if a maximum of five new corona cases per day are added for two weeks and there are not too many infections of which the source is unknown.
The regime in Victoria is characteristic of the strict approach to the corona virus in Australia, which has 25 million inhabitants. Although only 7,000 infections have been detected outside of Victoria, the states, which have a lot of power, have kept their borders closed in recent months. Residents of Victoria are still not welcome anywhere unless they are willing to spend a fortnight in guarded hotel quarantine.
The border restrictions led to painful scenes, such as the five children who had to go into quarantine before they could say goodbye to their dying father, who was in a hospital in another state. Or the woman from the Canberra region, where hardly any corona has been reported, who was only allowed to be at her father's funeral after much media attention – in a protective suit.
The country's outer border is also closed. Australians need an exemption to travel abroad. Flying to Australia is just as difficult. Up to 6,000 Australians are allowed to fly home every week. Tens of thousands are still waiting for a seat on a repatriation flight.
Good corona figures
The strict policy is striking, also given the relatively good corona figures: Australia has so far had 27 thousand infections and 895 deaths, of which more than 800 in Victoria. An estimated 10 thousand people were killed in the Netherlands and there are currently more than 4,000 new infections every day. The Dutch measures are much less drastic, and yet there is more opposition than in Australia.
That begs the question, why are Australians accepting this strict policy?
In Australia there is a widespread idea that the virus can and should be eradicated completely. Of course, it helps that Australia is an island and can keep a close eye on incoming travelers. While attempts are made in the Netherlands to control the virus so that healthcare is not overburdened, in Australia every death is one too many. Every day, Victoria's Prime Minister Andrews pays attention to each victim in his press conference, expressing his condolences to the affected families. That is the legitimacy to continue with the lockdown. "A large majority of residents agree that it is not right to relax now," he said last week. "The virus must be completely defeated."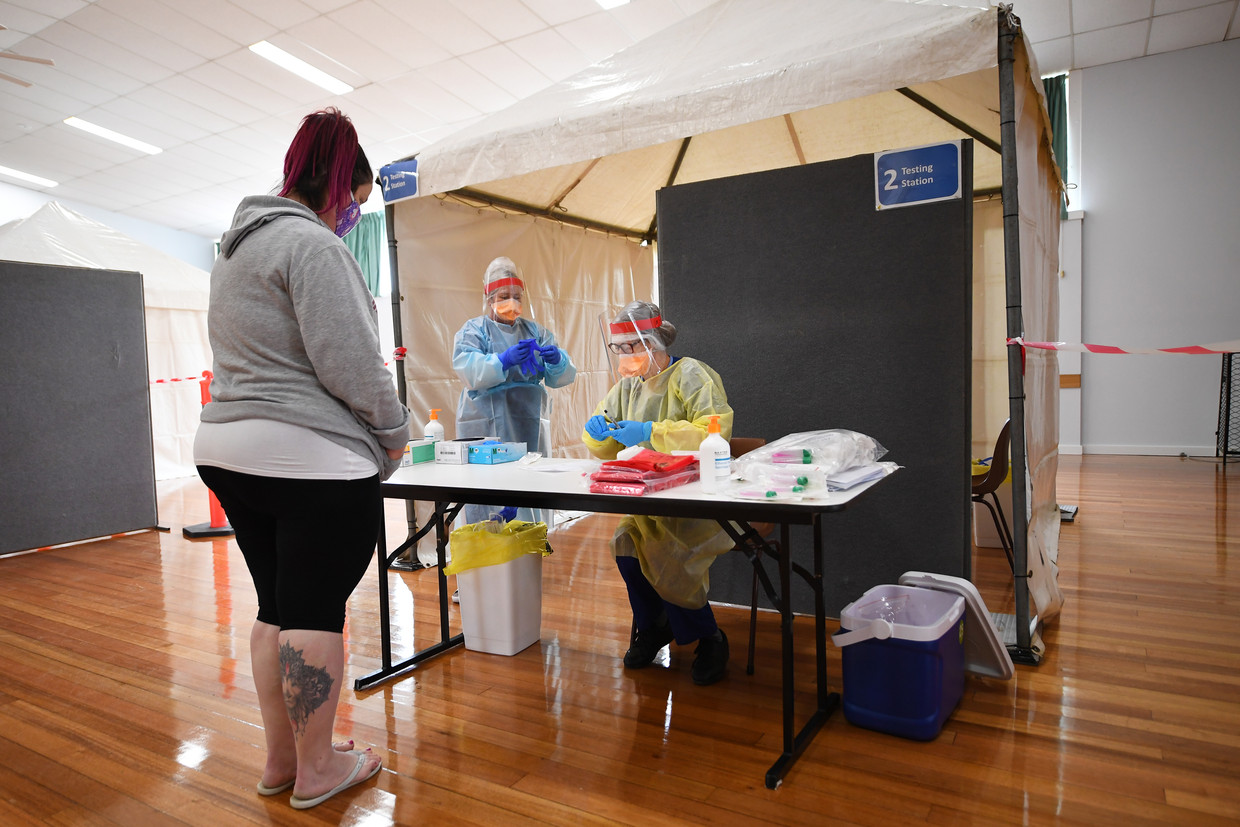 'Dictator Dan'
But there is also criticism. Especially in right-wing media, the government of Victoria has to pay. First because quarantine surveillance was not in order, later because of the 'draconian' measures that earned Prime Minister Andrews the nickname 'Dictator Dan'. "The residents of Victoria are living in a dystopian nightmare," the conservative newspaper wrote The Australian.
What did not help is that the authorities went too far, according to human rights organizations, to protect the people against corona. For example, the police pulled several people from their cars who refused to give their names and addresses at a checkpoint. In early September, a pregnant woman in her pajamas was arrested in front of her husband and children at home for calling on people on Facebook to attend an anti-lockdown demonstration.
Andrews defended the police action. 'Now is not the time to protest anything. It is simply unsafe. ' The Australian condemned the protests, but defended the woman, who had, after all, only called to protest. "Only the few Australians who have lived under the Nazis know what this feels like," the paper said. "This pandemic is eroding civil liberties."
'Dom-right talk'
According to Bell, who calls the measures 'strict but necessary', the criticism from right-wing media, often owned by media tycoon Rubert Murdoch, is mainly political in nature. In Victoria, the Social Democrats are in power, while nationally Prime Minister Scott Morisson's Liberal Conservatives are the government. "The right-wing media is working hard to discredit our government. The problem for them is that most voters are completely fed up with stupid right-wing talk. '
There is little outrage outside the media. Dutchman Ben Willem Mol, professor of gynecology at Monash University in Melbourne, says he received "no support at all" from colleagues when he shared his surprise at the arrest of the woman who had called for a protest. 'That feeling of injustice has no support. They say: you just have to stick to the rules. '
According to Mol, he has "got to know Australians better in recent months than in the past six years." 'They are extremely risk-averse. In the market they get angry if you get a little too close. To be allowed to enter the hospital, I have to report on an app every day that I have no corona complaints. Last week I was warned not to fill in the app while walking into the hospital because I could bump into people. '
Asylum seekers
According to economist Richard Denniss of the independent think tank The Australia Institute, "an overwhelming majority" accepts the far-reaching rules, also because they have become accustomed to a bold authoritarian government. 'Look at how we deal with asylum seekers, we lock them up in detention centers on distant islands, and that is also accepted. Australia is not a full-fledged liberal democracy. '
Particularly after the 9/11 attacks, a number of rights and freedoms were sacrificed, according to Denniss, including, for example, the right to remain silent and the right to a lawyer. 'The central state has been successful with strict policies. Now we see state officials do the same and people support it. Twenty years of xenophobic and authoritarian policies have made people ready for it. '
But the critical Denniss also supports the policy in Victoria, simply because it works. "Just look at the numbers," he says. 'A hard virus policy now means, once the virus is under control, more freedom and faster economic recovery.' That is badly needed, because the lockdowns have made a difference. Both the nation-state and the federal states have had to dig deep into their pockets to help people who have lost their jobs. The cabinet is submitting a record budget for 2021.
Corona-free Christmas
The question remains whether the virus can ever really be completely banned, as Victoria's Prime Minister Andrews wants. A new major outbreak will soon have to be prevented by large-scale testing, strict border security and careful contact investigation.
The signs are still favorable. Most states have dropped their restrictions, the beaches are full and the government reported last week that the border with New Zealand will open soon. Shipping manager Bell is also cautiously optimistic. "The goal is to have a corona-free Christmas," says. "We're close."