The Thai king Maha Vajiralongkorn has finally traveled to his kingdom against his will. Last weekend, he personally awarded diplomas to graduate students in the north of the country. This was a recurring ritual under his father, Vajiralongkorn hadn't gotten around to it since his inauguration in 2016.
The king (68) prefers to stay in his villa just outside Munich, Germany. Only if he has to, he flies over to Bangkok. Often he has left within 24 hours.
But now he has to again. The Thai capital Bangkok has been the scene of protests for months. Students, in particular, are demonstrating against the authoritarian government of former General Prayuth Chan-o-cha that has banned political parties and makes critics disappear. The protest is also directed against the king, who would have too much influence.
The latter protest is revolutionary. Normally the king in Thailand is untouchable: a beloved supreme father who is revered as a saint. Even the highest officials fall to the ground in his presence, literally. When Vajiralongkorn's popular father Bhumibol Adulyadej passed away in 2016, after 69 years on the throne, 12 million Thais visited the palace to pay his last respects.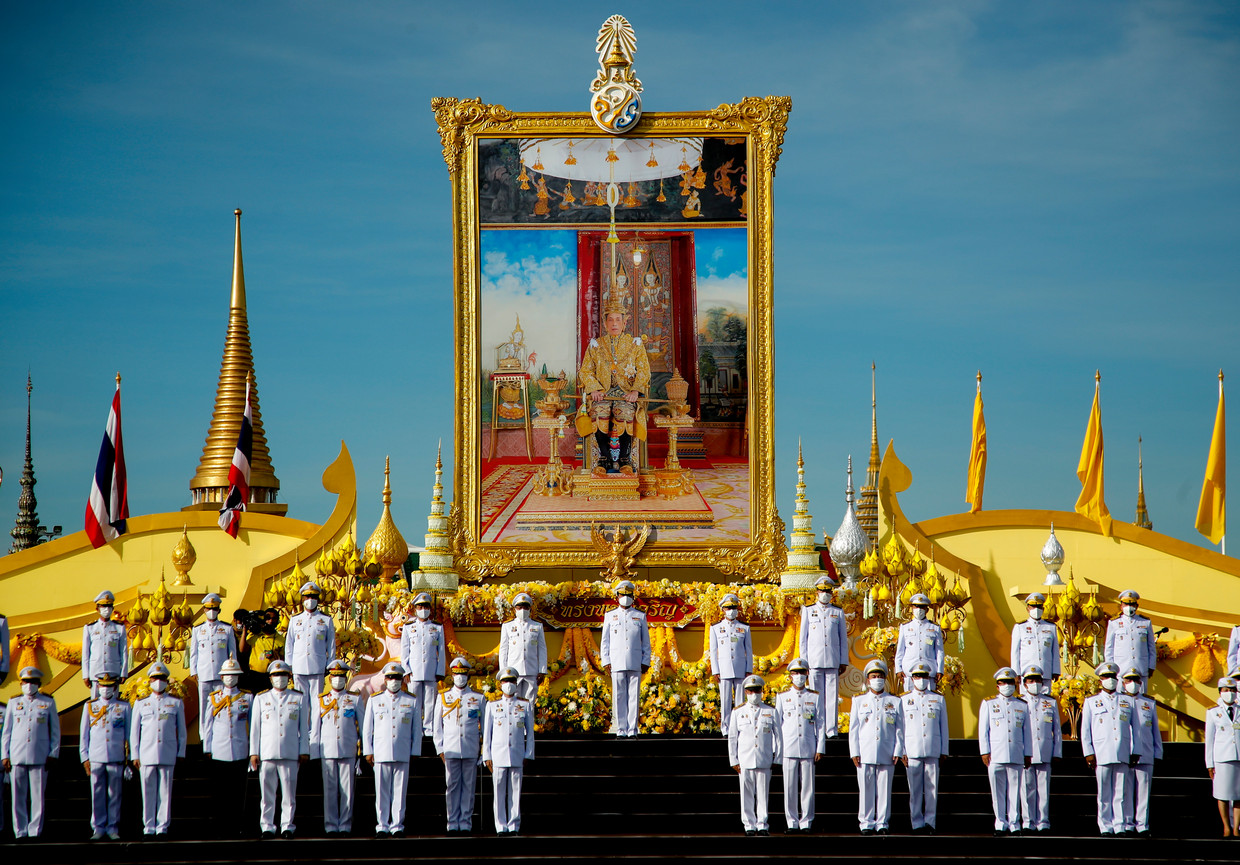 Scandals and oddities
However, his son makes it a lot more difficult for the Thai to love him. Not only because he is usually in Germany, but mainly because of an accumulation of scandals and oddities. It was not due to his education. After high school in England, Vajiralongkorn studied at the Royal Military Academy of Australia. He trained with the British and American Air Forces and became a fanatic pilot, capable of flying both helicopters and F-16s.
In his private life, however, it quickly became bumblebee. The Crown Prince turned out to be a dandy and a womanizer. His own mother called him 'a bit of a Don Juan' in a rare candid interview in 1981.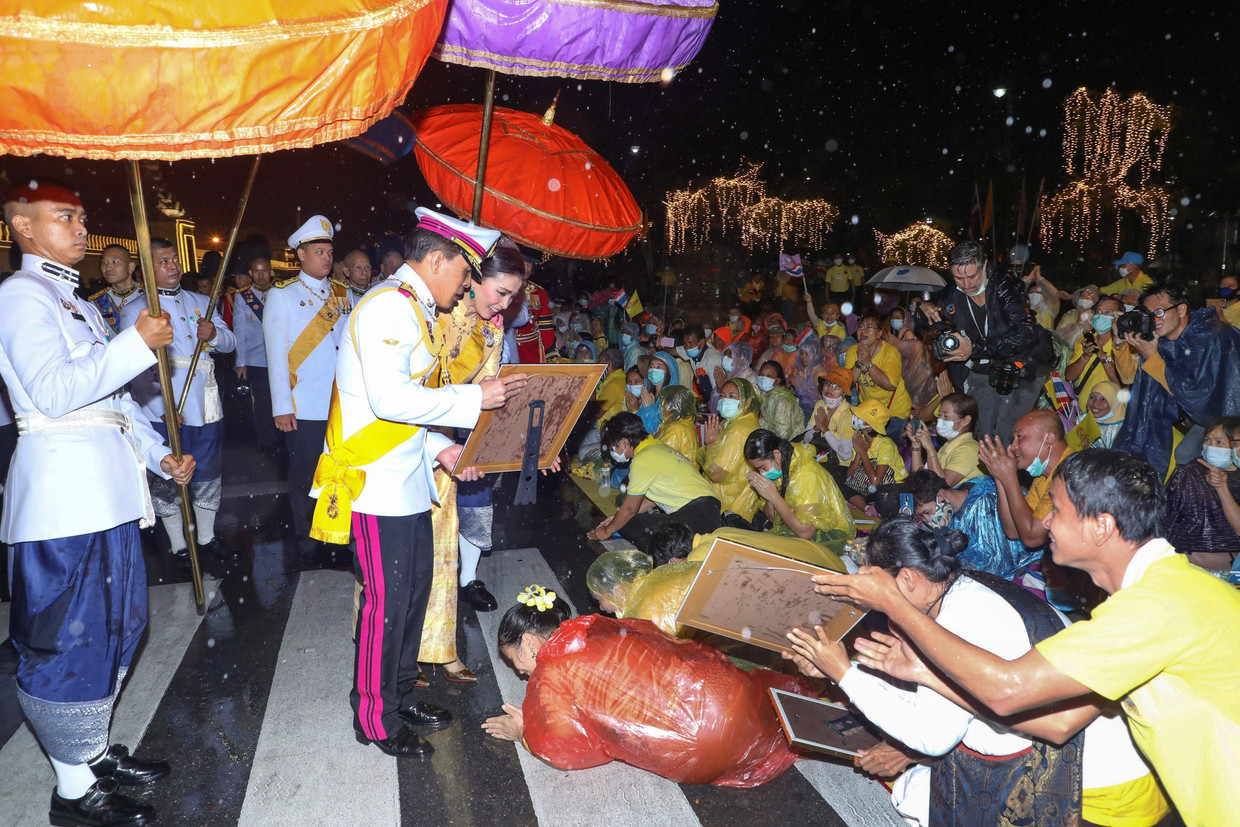 A year after his first marriage, he began an affair with an actress, Yuvadhida, with whom he would have five children. They married in 1994, but two years later Yuvadhida fled to England. The Crown Prince banished her and their four sons. Only their daughter kept her place at court. With his third wife Srirasmi, he had a son in 2005, Prince Dipangkorn – possibly the future Crown Prince. Srirasmi, too, was later set aside and stripped of all her titles.
And then there were the many strange incidents with which Vajiralongkorn as crown prince drew worldwide publicity. For example, a video of a birthday party for his poodle Foe Foe leaked. Servants can be seen running around in full dress while the Crown Prince and Srirasmi, dressed only in a modest thong, happy Birthday sing for the dog. Later Vajiralongkorn gives the dog the rank of marshal. According to the then American ambassador in Bangkok, the animal once attended an official banquet, dressed in uniform, complete with white gloves on its legs.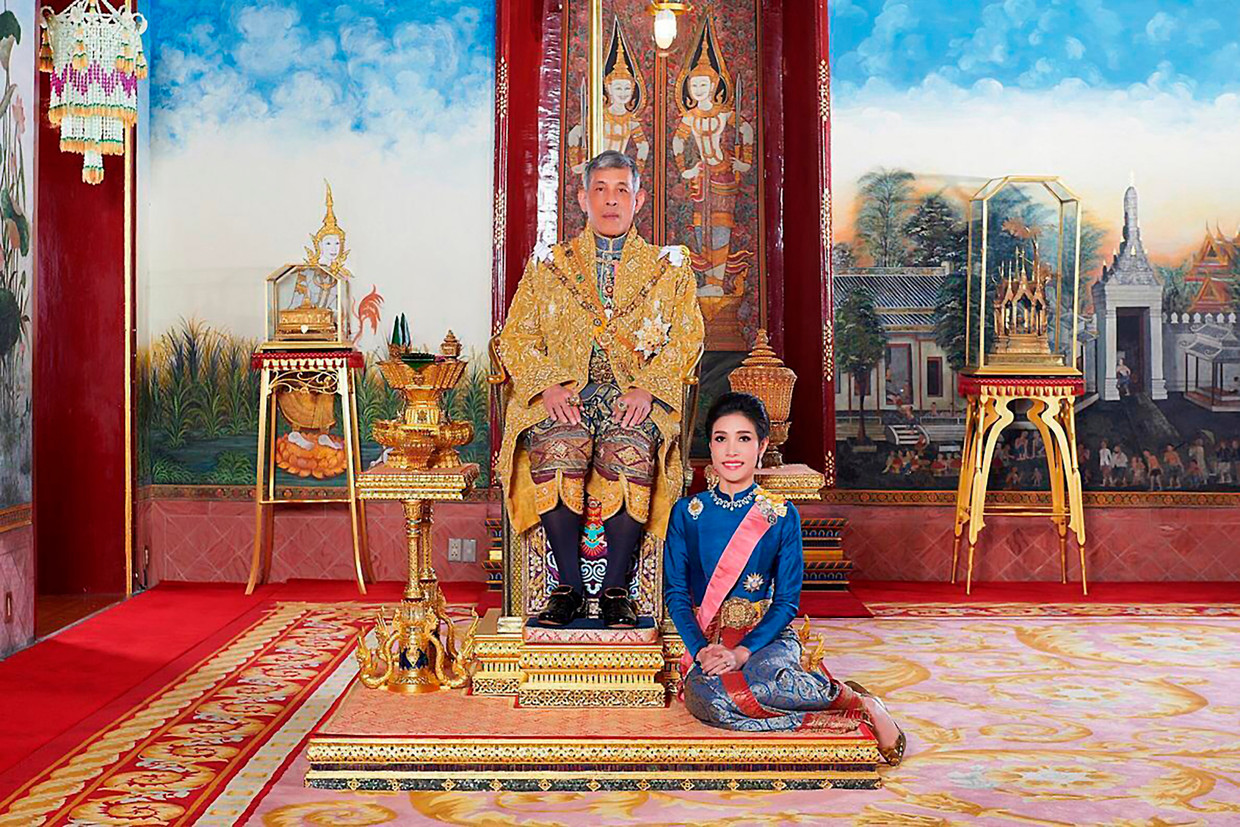 Bike ride in women's panties
There is also the famous video – banned in Thailand – in which Vajiralongkorn in a yellow top and the body apparently covered in tattoos, strolls through a German shopping center with his mistress. Later, photos also leaked showing Vajiralongkorn on a bike ride wearing a kind of women's panties.
The images that also enter Thailand via detours do not exactly generate more respect among his subjects. Many wonder whether he is suitable as a monarch. Not out loud of course, because Thailand has a strict law against lese majesty, which is also regularly applied.
However, once in power, in 2016, King Vajiralongkorn manifests himself as someone who is not to be trifled with. If Prayuth's military junta wants to amend the constitution, the king will also pass on some changes. In this way, he becomes the formal owner of all royal possessions worth several tens of billions. It is also recorded that it is no longer necessary to appoint a regent when the king is abroad: he can go to Munich as often as he wants. Finally, he takes command of two military units in Bangkok, which means he now has a kind of private army at his disposal.
The king appears not to be afraid to become actively involved in politics. In early 2019, he bans his popular older sister Ubolratana Mahidol from running in the elections as candidate prime minister. She has to withdraw hastily, after which the party that had dared to put her forward was simply banned. Several Thai anti-monarchy activists are arrested and disappear.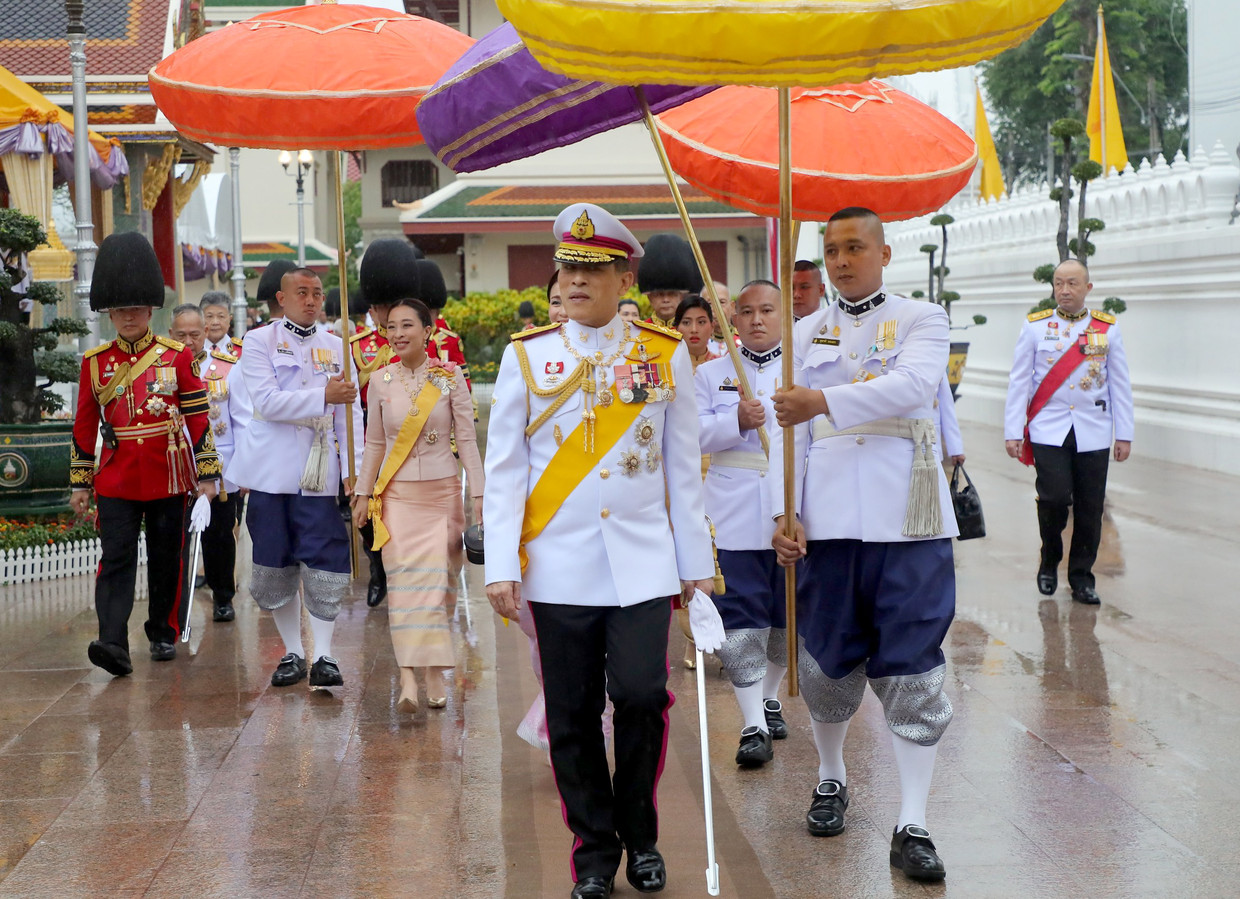 Fourth marriage
The relationship troubles remain. In May 2019 he married for the fourth time, this time with ex-flight attendant Suthida Tidjai whom he has appointed as commander of his bodyguard and given the rank of general. A few months later, Thai newsreels open with news that the king has appointed 34-year-old bodyguard Sineenat Wongvajirapakdi as an official concubine – a minor shock in a country where polygamy is banned. The court is releasing photos of the consort dressed in a tight uniform in a fighter plane.
A few months later, love seems to be over. Sineenat loses all her titles because she would not have been loyal to the king. She disappears from view for a long period, until she regains her rank and titles in September of this year, because, according to the court, she is no longer 'smeared'.
The king may be a party for the tabloid press, but the students are less impressed by the king who does what he likes. They may still be able to accept the oddities, but the close cooperation with the authoritarian regime and the claiming of the royal possessions are more difficult to accept.
With a longer stay in his homeland, the king hopes to get the genie back in the bottle. The question is whether it is enough.
Also read
Thai government wants to ban secure messaging app Telegram due to ongoing protests
Due to ongoing protests by young protesters against the current regime, the Thai government has ordered internet providers to block secure messaging app Telegram. The assignment can be seen in a leaked document that has been circulated on social media, British news site BBC reports.
Thai students stand up to the general, 'that dictator', and even the king
Student Danothai Chayaphol explains what moves the young activists.
Dormant political unrest in Thailand is escalating
Political unrest and military coups are common in Thailand, but criticism of the 300-year-old monarchy is tantamount to revolution.