It's officially summer since yesterday, and with the easing travel restrictions, a great summer vacation is getting closer and closer. Especially a holiday on a (European) island is high on our wish list. Did you know that there are hundreds of islands in Europe alone where it is great to stay? Every country has its own favourite, often abroad. However, the favorite of the Netherlands stands out.
Some Europeans prefer to go as far from home as possible, while others prefer to stay within the borders of their own country. The Dutch fall within the latter group. Our favorite holiday island is Texel (which also has a tropical version).
Musement, the digital booking platform for activities around the world, has created a map of Europe showing the favorite island destinations of 44 European countries. For those results, the platform analyzed Google search traffic for 200 European islands (excluding island states) in the countries present. Some resorts stand out clearly because they are favorites in several countries. But there are also places that are still undiscovered and definitely worth a visit.
Most popular holiday islands in Europe: Santorini and Tenerife
Many inhabitants of Europe choose a (island) country outside their own country. Only residents of a few countries, including the Netherlands, Sweden and Denmark, choose an island within the national borders. Santorini is especially popular. The island with an area of ​​76 square kilometers is the favorite of no fewer than eleven countries. France, Bulgaria, Hungary and Northern Ireland, among others, are fans of the Greek destination.
In addition, Europeans like to go to Tenerife. Spain itself also prefers the Canary Island over all the other islands. People from Iceland, Scotland, Belgium, Latvia and Moldova also like to go to Tenerife.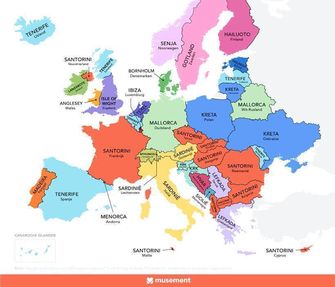 Favorite of the Netherlands: Texel
And then the Netherlands. Where our fellow Europeans love lots of sun, volcanic beaches, romantic sunsets and award-winning restaurants, we like to go to Texel. Although of course nothing but good about Texel, because there is also a lot to experience there. It is not only the largest Wadden Island, but it also has a lot of admirable nature.
The beaches, National Park Dunes of Texel, the chance to spot seals, the iconic lighthouse, the sheep farm and the nice villages are just a few reasons to visit this island.
Got to see the sunrise on Texel last weekend…. pic.twitter.com/tmg8nAooi5

— Sander Boon (@Sander_Boon) June 14, 2021
Undiscovered gems
On the map are islands that we all know, such as indeed the two favorites. But as you may have noticed there are also some islands that you may not know yet. Ideal for when you don't feel like crowds after the lockdown. For example, Senja, a Norwegian island. There you will find impressive fjords, a blue sea and green nature.
On Hiiumaa, an island off Estonia and also a favorite of the Estonians, you will find historic lighthouses and the longest ice road in Europe. The Danes' favourite, Bornholm is also known as sunshine island. Enough reasons, we think, to book a ticket quickly. Pay attention to the travel advice of your holiday destination.
Which papers do you have to take with you on holiday? Many find it a mess
Seen a mistake? Mail us. We are grateful to you.