Corona: vaccination obligation for professional groups

The incoming chancellor, SPD leader Olaf Scholz, started his speech with a minute-long warning about the rising number of corona infections. The ICs are approaching their limits in some places, Scholz said, and Germany faces another winter dominated by corona. The new government will therefore pursue a stricter policy.
Vaccination is becoming mandatory for certain professions, including nursing staff. They also receive a 'corona bonus'. The new government has set aside one billion euros for this. On Tuesday it was already announced that all soldiers must be vaccinated. The vaccination may also become mandatory for other professional groups. The vaccination campaign is being massively expanded, with more mobile teams.
'I also consider the deployment of the army to be correct,' says Scholz. 'Vaccination is the way out of this pandemic.'
An expert group will be set up under the responsibility of the Federal Chancellor that will report daily on the pandemic and the effect of the measures taken against it. In addition to epidemiologists and virologists, sociologists and psychologists also participate. A new 'Infection Protection Act' came into effect last week. This includes no longer the number of infections, but the number of hospital admissions leading to corona measures. 3G applies in public transport and in the workplace.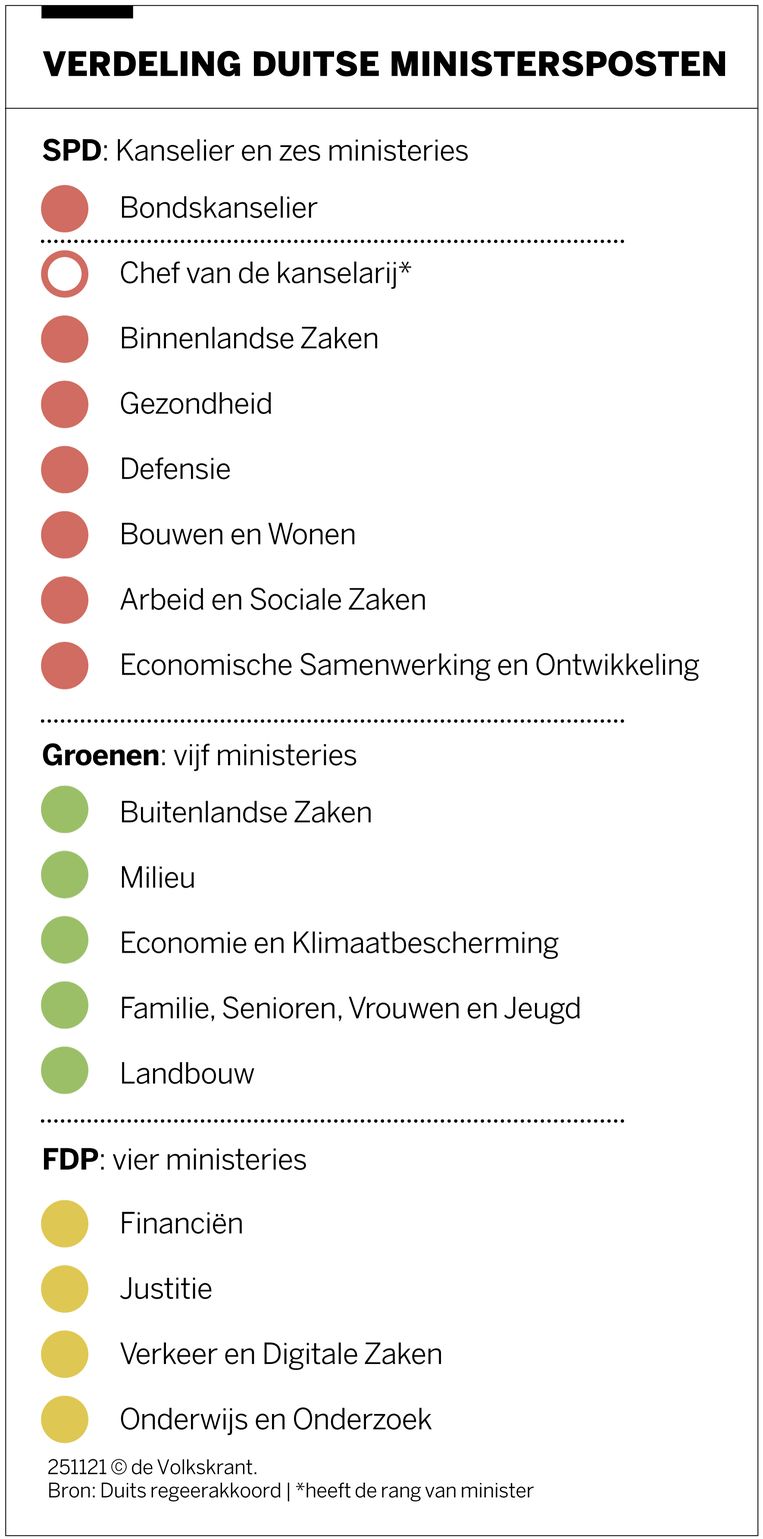 Modernization: 'We are going to digitize this state'

That was literally the fourth, and shortest point of FDP leader Christian Lindner. Modernization of German society is the promise of the liberal party. As far as the new government is concerned, this covers all areas. Government, first and foremost, but also business and education. Germany is lagging behind other northern European countries in terms of digitization. Infamous are the stories about health institutes that consulted by fax at the beginning of the corona crisis.
Modernisation, de-bureaucratisation and digitization of the administration should 'at least halve the duration of official procedures'. Innovation teams will be set up in all departments. Digital skills are becoming a core part of training. 'Digitalization increases transparency and participation', according to the coalition agreement: the government is creating a digital portal where citizens can see the status of a bill. Fiber optic and the latest mobile standards must be made available everywhere.
'We are excited about the new and will promote innovation', promises the incoming government. "Germany needs a large-scale digital awakening."
Climate: 'super ministry' for Economy and Climate Protection

A new 'super ministry' for the economy and climate protection will have primary responsibility for the German energy transition. The ministry will be headed by Robert Habeck, one of the two leaders of the Greens.
By 2030, 80 percent of Germany's power supply must consist of renewable energy. That has been 65 percent so far. To this end, all roofs that can support it will be fitted with solar cells in the future. 2 percent of the German soil is reserved for wind farms. At least 30 gigawatts must come from offshore parks by 2030, enough for 30 million households.
The early abolition of coal-fired power stations, which produce more than a quarter of Germany's energy, is still an intention, not a rock-solid guarantee. Until now, Germany has aimed for 2038, after the exploratory talks the incoming government spoke of 'ideally' 2030. That phrase has not changed.
"There is no other industrial nation that is doing so much for the climate," said FDP leader Lindner. 'We hope to be the first to saddle up the horse, so that others in the world can ride it afterwards.'
Social justice: 'controlled distribution of cannabis' becomes legal

The new government introduces a minimum wage of 12 euros, more than 20 percent more than now. This will immediately benefit 10 million employees. The minimum wage spearheaded his Social Democratic SPD's campaign. The retirement age remains unchanged, the payment thereof is unaffected.
Germany will build 400,000 new homes every year under a newly established Ministry of Construction and Housing. There will be a new limit on rent increases in busy areas, to 11 percent every three years. There will be no freeze on rents in cities with a major housing shortage.
Salient detail, after high expectations among German enthusiasts: the new government is indeed legalizing weed. It concerns 'the controlled distribution of cannabis for pleasure use among adults in specialized shops.' An evaluation of the social effects will follow after four years.
Foreign policy: sovereign Europe in a multipolar world

Germany is aware of its important role as the world's fourth largest economy and the largest EU country. In the words of Scholz: 'We are not here to comment from the sidelines. Germany has a responsibility to contribute to a stronger EU and is a transatlantic partner especially for the US. A sovereign Europe is the key to our foreign policy.'
In German eyes, this means that Europe as a whole must become stronger and more independent, according to the coalition agreement. "We need to ensure that Europe can act independently in a global context and in key strategic areas such as energy, health, imports of raw materials, and technology. Less dependent, without closing off Europe.'
We are moving towards a 'multipolar' world, according to Scholz, with multiple centers of power in which countries such as India also assert themselves. 'Together we must ensure our safety.' Germany sees a role for itself in this as a facilitator of dialogue. Annalena Baerbock, leader of De Groenen and incoming foreign minister, emphasizes that active foreign policy and strong diplomacy are also essential for international action on climate change.