There was hardly any audience at Ajax-Liverpool on Wednesday evening. But the TV viewer at home did not notice it. Thanks to 'enhanced audio', a new corona phenomenon.
When Ajax defender Nicolás Tagliafico unfortunately works the ball behind his own goalkeeper after 35 minutes, disbelief sounds in the Johan Cruijff Arena. Then a classic chant swells from the supporters of Liverpool. Remarkable, because there is nobody in the stadium on Wednesday evening during Ajax's first Champions League match this season.
Still, a passionate 'ooh' sounds when Martinez heads the ball straight into the hands of Liverpool goalkeeper Adrián. And when referee Brych punishes a violation by David Neres, TV viewers of SBS6 can hear a soft whistle concert.
All those sounds come from an iPad, which is operated in a trailer next to the stadium. On behalf of production company Southfields, three men during the competition are exclusively involved with 'enhanced audio', as football association Uefa calls it. Amplified supporter sound, intended to still give some atmosphere in the nowadays (almost) empty football stadiums.
Bundesliga
The German Bundesliga started it in May, on a trial basis. The reactions were cautiously positive. 'People turn to it because they are looking for the familiar', former NOS director Martijn Lindenberg told the AD. He did warn that the added sound should continue to sound realistic and that the sound director should not make his own show.
'The most important thing is that you sense a match', says Paul van Oudenallen, who starts the sound clips from the SBS6 trailer on Wednesday evening. To prepare, he watched and above all listened to Ajax – Heerenveen on Sunday.
He kept wondering: at what event should I press which audio button during Ajax – Liverpool? 'As an Ajax supporter, I want to hear applause at home on the couch when Davy Klaassen gives a beautiful pass to the other side of the field. You have to sense something like that, otherwise you will quickly miss the point. Because a simple pass over five meters is no reason for a generous applause, every football fan knows.
On his iPad, Van Oudenallen can choose from applause and protest, in addition to the oehss and aaahs. Also the supporters songs of both Ajax and Liverpool ('You'll never walk alone is of course included ') he has under the button. The fragments are cut from Champions League matches of Ajax and Liverpool last season.
The technician next to him takes care of the 'underlay', so that ninety minutes of buzz can be heard from the stands. Van Oudenallen can start every fragment soft, medium or hard. The supposedly traveling supporters of Liverpool are quieter by default, because it would be strange if they make more noise than the tens of thousands of equally fictional Ajax fans.
Van Oudenallen is careful with whistle concerts after an unwelcome decision by the referee, who himself cannot hear this in the stadium. 'Whistling is a negative thing. But when a Liverpool player is annoyingly delayed, we will certainly hear a whistle. '
You cannot hear loud drumming, wind bands and vuvuzelas. "We want to stay away from factors that can disturb you," says Danny Melger, who directs the Ajax – Liverpool broadcast. 'The viewer should not be annoyed, that is a rule of law on TV. Those three in that trailer did the best job if they were left invisible. ' They adhere neatly to that assignment: the supporters' noise is also far from loud. In between, you can even pick up some clues from trainers.
At matches in foreign competitions, a fragment sometimes wants to be started too late, Van Oudenallen notes. 'Then there was a shot at target three seconds ago and you only hear an oooh. Really ugly. Then you know that there is a technician with no knowledge of football to start the sound. '
Excuses
Yet it also went wrong at a premier league match, at the beginning of this month. During Groningen – Ajax suddenly sounded through the TV speakers: 'Anyone who does not jump, he is a Jew.' That chorus had apparently been overlooked when loading the sound clips. Fox Sports apologized.
Making mistakes is human, says Van Oudenallen. 'And you can bet that such incidents put everyone on edge. But I trust the people who have loaded the sounds with us. '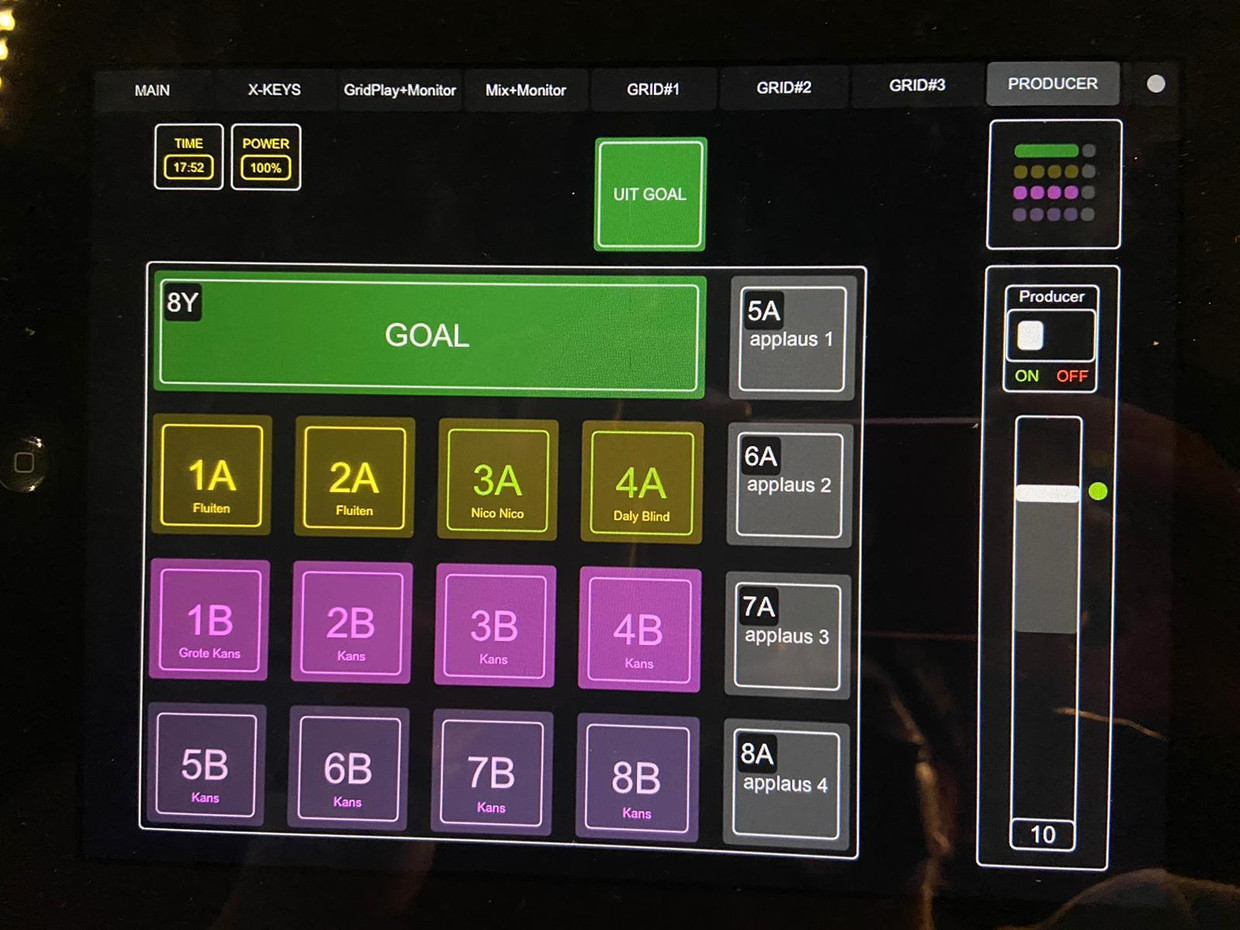 In the thick UEFA scripts everything is written down to the decimal point. Still, stations can decide for themselves whether to add stadium sound. So on Tuesday, also in the Champions League, there was a lot of reverberation during Paris Saint-Germain – Manchester United. The French TV direction does not do enhanced audio.
Nothing is as beautiful as the sound of a full stadium singing or cheering, admits Melger. 'We add experience to a match. But we also mask something with it. ' Maybe this isn't Columbus' egg either, he says. "But I don't like to listen to that reverberation in such an empty stadium anyway."