The Chinese real estate company Evergrande, once the largest in the country, is on the verge of collapse. Shu Dong has lost his job and wishes he had never met Evergrande. "The situation is very serious."
Until a few years ago, Shu Dong (28) was quite content with his life. He had a reasonable income, and no worries on his mind. Until Shu heard from some friends that they were earning up to a million renminbi (140 thousand euros) a year at Evergrande, and had bought several apartments. Shu wanted that too. He quit his job, moved to Guangzhou in southern China and started working as a salesman for Evergrande. He entered the world of fast money.
More than two years later, Shu wished he'd never encountered Evergrande. The once successful Chinese real estate company is about to collapse, and Shu's division has been shut down. He has lost his job, has not been paid for six months and has been given 17 parking spaces as compensation. But due to all the uncertainty surrounding the company, he is unable to get it officially in his name.
Shu spends his days inquiring and urging Evergrande, but is warned by the police to back off. His social media accounts have been shut down after he posted critical videos.
"The situation is very serious," Shu said by telephone from Zhongshan in southern China, where the parking spaces promised to him by Evergrande are located. He has nothing to lose and is therefore willing to open up about his experiences at the company. 'I'm out of work, I'm too restless to look for a new job and I spend all day working on those parking lots. If Evergrande goes wrong before I have a solution, I'll lose everything."
golden mountains

The story of Shu Dong is that of many victims of Evergrande, the real estate company that was once China's largest but is now on the brink of bankruptcy. It is a story of mountains of gold that seemed to reach for the sky but turned out to be financially backed by quicksand. The story of a runaway carousel where everyone kept pumping money: banks and investors, buyers and sellers, bosses and employees, even Evergrande's security officers.
The carousel continued to spin as long as the Chinese economy grew, as long as house prices continued to rise and the money tap was wide open, as long as everyone continued to believe that Beijing would always keep the real estate sector under control. But now that Beijing is no longer willing to do that and the money tap has been turned off, the carousel has come to a stop with a loud creaking. And Shu Dong and millions of others find out that at the end of the day, there's no money left.
'Everyone is nervous', says Shu, who works together with other victims, who fear that the construction of their home, the payment of their debt securities or the transfer of the parking spaces in which they have been paid. Evergrande has missed a number of major interest payments since late September, and is getting closer every day to an inevitable bankruptcy. "We know that Evergrande's situation is now very precarious and we may be left with nothing: no money and no parking."
Founder Xu Jiayin

Evergrande's story begins in 1996, when Xu Jiayin, a half-orphan from rural Henan who worked his way up in a steel factory in his twenties, moves to Guangzhou to get rich. It is the time of major economic reforms in China, of the emergence of an entrepreneurial class and of private property in the housing market. Hundreds of millions of Chinese are moving from the countryside to the big cities, and are working their way up to a new middle class.
In China, thousands of property developers emerge in those years, but Xu is the most ambitious and most aggressive of them all. He snatches away the best land, builds the fastest, and dares to borrow the most money. He runs his business like a tight machine, with 6,000 rules and procedures that are the same at every Evergrande facility across China. He prides himself on having a team ready to start work within two hours of a building permit being issued.
Evergrande is growing into a gigantic real estate player in China, with 200,000 employees and enough (construction) land to house 10 million inhabitants, almost the entire population of Belgium. In 2009 the company will go on the Hong Kong Stock Exchange, in 2017 – at its peak – the shares have become worth eight times more than the initial price. Xu Jiayin, who in the meantime can be called Hui Ka Yan in his Hong Kong style, is according to business magazine Forbes the richest man in China, with a net worth of 39 billion euros.
Xu likes to display his wealth. He flies his private jet to his villa in Australia, sails his luxury yacht to the casinos of Macau, buys his own football club. In 2012, he appears at a Communist Party rally in Beijing wearing a garish belt with a gold Hermès logo, earning him the nickname "belt brother." He invests in electric vehicles, in amusement parks, in mineral water, always with the ambition to become the largest.
Hellish work rhythm

But Evergrande's rapid growth comes with major risks: the company is piling up loans, sometimes from dubious sources, well beyond its equity. Evergrande buys land with borrowed money, collects money for apartments yet to be built, pays contractors and suppliers with debt securities. The Chinese government is letting it go, because it benefits itself: local governments live off land sales and the national government swears by economic growth.
Shu Dong also wants to get a piece of the pie, just like many ordinary Chinese, especially when Evergrande rolls out a grand plan in 2019 in his hometown of Lu'an in the Anhui province. Lu'an is a city of 4 million inhabitants, but Evergrande announces an amusement park bigger than Disneyland, an electric vehicle factory and numerous apartment complexes. Some of Shu's friends work at the company and tell him how they are getting there financially. Shu takes the plunge.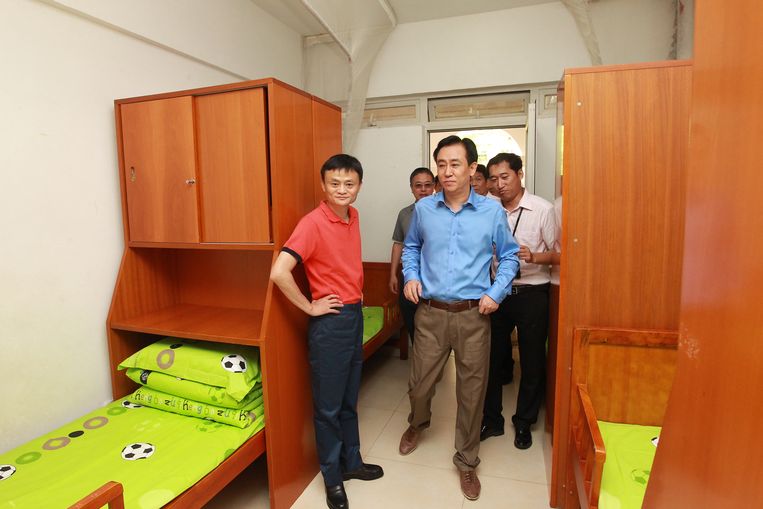 The pace of work is fast at Evergrande and Shu works long hours. 'We worked from 8 or 9 am to 1 or 2 am, including weekends,' he says. 'If you didn't meet your quota, you had to work overtime, then you couldn't go home. As salesmen, we were frontline employees, the customers could contact us at any time. It was really difficult. I worked hard for my money.'
Shu earns well, but he sees more and more strange things. Normally he gets his commission within five days of a sale, but in 2020 it takes longer and longer. Shu isn't immediately concerned. "Evergrande had liquidity problems like that every year, but always got over it. Sometimes we had to wait a month, sometimes two months. But at the beginning of this year, they stopped paying altogether. They haven't paid commissions for over six months.'
Three Red Lines of Beijing

What's bothering Evergrande is that the Chinese government is setting more and more limits on reckless borrowing in the real estate sector. The housing prices fueled by cheap money lead to speculation and unaffordable housing for ordinary Chinese and the immense debt mountain leads to major financial risks. The real estate sector is a major driver of the Chinese economy, but President Xi Jinping is prepared to slow down. He wants to get rid of debt-based growth.
In August 2020, Beijing will issue 'three red lines' under which real estate companies must maintain their debt ratio if they want to keep access to credit. Of the fifteen largest project developers in China, only one meets the three criteria. Evergrande exceeds all three. The company is finding it increasingly difficult to borrow money, and thus to pay contractors and suppliers. The carousel begins to falter.
But Evergrande is creative and seeks money from his own employees. According to an article by the Chinese financial weekly Caixin, which is censored immediately after publication, Evergrande's employees will be forced to purchase asset management products from their own company from 2017 onwards. They are promised fantastic returns and many see it as an opportunity: they can become rich with the company. But it will never pay off.
Up to their necks in it

"Evergrande issued quotas and those who failed to meet them were fired," Shu said. As a seller, he himself was exempt from the obligation. 'I heard that you had to buy for at least 100 thousand renminbi (13,400 euros), that was the lowest amount. While I was at headquarters to stand up for our rights, I learned that even Evergrande's security officers had purchased over 100,000 renminbi's worth of wealth management products. They have never been paid either.'
Evergrande also offers its employees apartments at great discounts but through shady ownership structures. "A lot of Evergrande employees have bought properties from the company, some quite a few," Shu says. His own childhood friend put all his savings into three apartments in Lu'an. "But some of those projects have been used by Evergrande as collateral at the bank. If Evergrande goes bankrupt, all those employees will lose their homes.'
Shu himself, after much deliberation, agrees to Evergrande's proposal to give him 17 parking spaces, as compensation in kind for the delinquent commissions of the past six months. At first glance, it's not a bad deal: the parking spaces are charged for 3,600 euros each, but can yield multiples on the free market. That is, if Shu ever gets the parking spots in his name, but that has not been possible for weeks.
Shu thinks it's unlikely he'll ever get his money, but he can't help but persevere because, in line with the Evergrande model, he's already spent some of his commissions in the form of discounts to his buyers. This is a common selling tactic in the Chinese real estate sector. "We've all advanced money to customers and with Evergrande not paying us, many people are left in debt," Shu says. "A lot of people now live off their credit cards."
And that's how Shu played his part in the carousel, where everyone wanted to get rich quick and money was spent before it was earned. The carousel that would spin forever, until it didn't anymore. Shu wished he'd stayed far away from it. 'Before I started working at Evergrande, I had a good life. I may not have earned that much, but I had no problems. I earned more at Evergrande, but I also got a lot more stressed. My life is hard now.'