Dion, are the Spaniards only complaining about striker Álvaro Morata or now about the entire selection?

"Morata is certainly the head of the bunch, but the complaining has spread to the rest of the squad. Also national coach Luis Enrique is no longer doing anything right. There is a hugely pessimistic mood here. According to a poll by marca, the sports newspaper here, almost half of the Spaniards think that the team will fly out in the group stage.
'Sunday after the game there was a telling incident. The players left the hotel in Seville and many supporters had gathered at the road to the bus. But the players, except for three, didn't really look up or back at them. They also received a lot of criticism for that.'
What creates pessimism? They are through with a win over Slovakia.

"It's the usual nagging when things don't go the way they should. Besides, if you didn't beat Sweden and Poland, it doesn't mean you beat Slovakia.
"They simply expected a lot more here. It is a young team with many talents. Perhaps they have too few heavyweights in the selection. You can question the decision not to bring Sergio Ramos. Luis Enrique has only called up 24 players, while you can bring 26. Then Ramos, 180-time international, could at least have added experience.'
The Spaniards can be more positive about the infection figures. Can we go on holiday to the country again soon?

'That is in line with expectations. Spain is still orange for the Dutch, but the numbers are steadily falling across the country. Here in Madrid, nightlife will resume next week, with some restrictions. From Saturday, the mouth cap obligation will also be over. I am very happy with it. If you have to wear a mask at 35 degrees, it is very hot.
'I am actually more concerned about the corona situation in Portugal than about the situation in Spain. The number of infections there is now increasing reasonably, you can see that the Delta variant is growing. There is now also a kind of mini-lockdown in Lisbon, where people are not allowed to leave the city on weekends. In that regard, you can also question how the Ministry of Foreign Affairs determines these travel advice. Portugal now has a yellow travel advice, but if you ask me, Spain feels like a safer destination than Portugal. Some regions, such as Valencia, have been showing great numbers for weeks.'
You've been to the Portuguese party town of Albufeira last month. How was the scenario with restrictions in the summer viewed there?

"People are terrified, of course. The clubs and bars can't have another bad season, and Portugal can't afford it either. Then you now hear that all kinds of young people come back infected from holiday holidays… I honestly doubt that you can really blame those infections on places like Lloret de Mar or Albufeira. Young people would also infect each other if they went to party in Renesse.'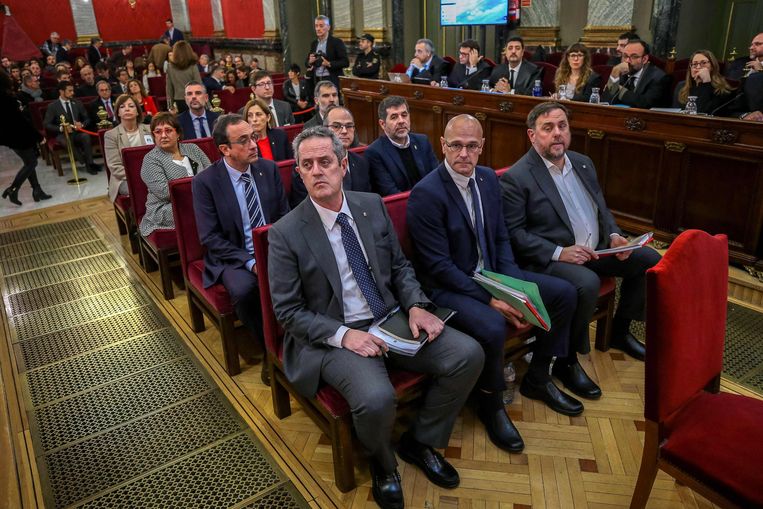 Then let's talk about Catalonia. The Spanish government pardoned Catalan politicians on Monday. Does that decision live on the streets in Madrid?

"Last week 60,000 people gathered in Madrid to protest against that decision. For them, this decision feels like crossing the legal process. Those separatists have been convicted, and are now being released just like that. Moreover, there is a fear that they will immediately start doing the same thing as before when they are free: pleading for Catalan dependence.
'The big question now is whether that fear is justified. In any case, it is not the case that the released politicians are very grateful to Prime Minister Sánchez. They think the decisions are only justified.'
And that while Sánchez still declared his love to Catalonia on Monday…

"Yes, in that sense it's a charm offensive on his part. He wants to radiate: guys, we are just one country, let's make the best of it together. In addition, he needs one of the Catalan pro-independence parties to have a majority in the Spanish parliament. Opponents say he is doing it purely for political gain. Let me put it this way: I don't rule out that it plays a role.
'It cannot be ruled out that the leftist government of Sanchez will eventually give Catalonia more autonomy. But it doesn't seem like the Catalan government will ever get enough of that. He wants independence, and Madrid is never going to give that. So it is not a solution to the problem.'
Finally, Dion: if we are to believe half the Spaniards, where are you going to watch the country's last European Championship match on Wednesday?

'I think in a bar. There are nice bars here, but it is striking: the Dutch watch more football in the cafe than the Spaniards. I wanted to watch the first group match last Monday. And most of the pubs were closed.
'Now a lot of the catering in my neighborhood is closed on Mondays. But even then: many Dutch catering entrepreneurs would probably still throw open the tent. Not here, then.'