That is the solution devised by a group of Wageningen scientists to overcome the impasse in the discussion about the future of agriculture. In it, two camps face each other. One pleads for more intensification, in order to get as much out of the ground as possible. The other camp is in favor of a transition to less production-oriented agriculture that protects nature and the environment.
'Farmers are now in each other's way,' says Martha Bakker, professor of Land Use Planning at Wageningen University & Research (WUR), who initiated the plan. 'The solution we have come up with is: take them apart.'
The researchers have made a map of all agricultural land in the Netherlands, more than two million hectares. According to them, more than 845 thousand hectares are suitable for intensive agriculture. These are mainly fertile clay soils in Zeeland, the head of North Holland, Flevoland and the northern parts of Groningen and Friesland.
The rest, more than 1.1 hectares, is predestined in their plan for 'green', nature-friendly agriculture. These are mainly the poorer sandy soils in North Brabant, Limburg, Gelderland and Drenthe and the peat meadow areas. Intensive livestock farming is bundled in large agroparks near the port of Rotterdam, Schiphol and Westland.
In the plans of the Wageningen researchers, nature areas are relieved, because they are embedded in green agricultural zones. The use of pesticides and fertilizers is more than halved. Relatively fewer resources are needed on fertile soil. They are mainly used on poorer soil.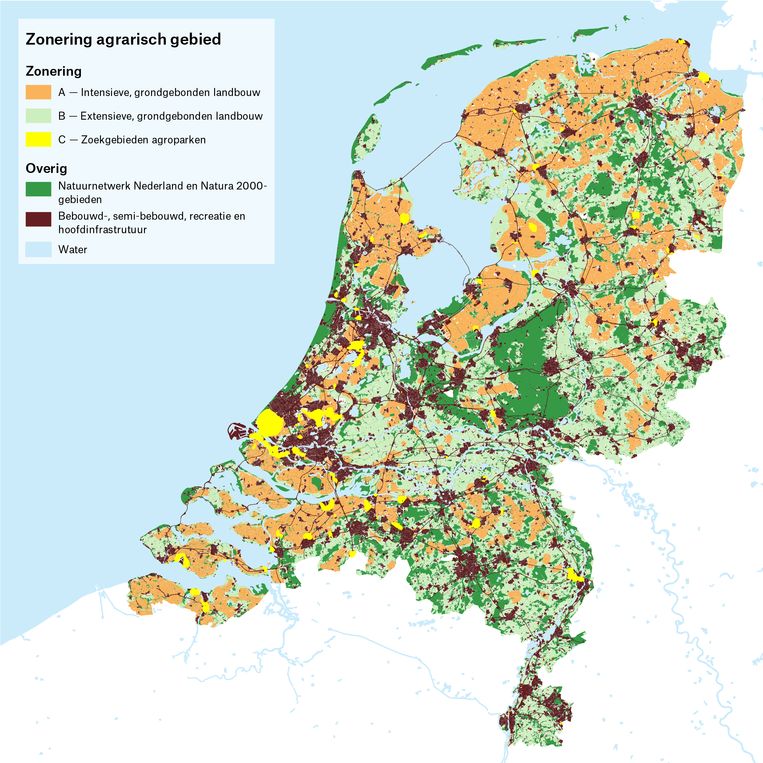 Greening operation

Because most of the agricultural land in the Netherlands is now intensively cultivated, the plans amount to a major greening operation, as more than half of the land is intended for extensive use. As a result, the number of cows in the Netherlands, for example, will decrease by 30 to 40 percent.
The implementation of their plans would result in land consolidation on a national scale that will take decades, says Bakker. Central government must take the lead in this. The researchers estimate the costs of the plan at 80 billion euros.
Former minister Cees Veerman, leader of a coalition that recently advocated a transition in agriculture, thinks dividing the Netherlands into agricultural zones is a good idea. "If it is gradual." According to Veerman, it would be a great job for a new Ministry of Agriculture and Space to be established.
Agricultural organization LTO Nederland does not see anything in a top-down zoning of the Netherlands. According to LTO, it should be left to farmers how they conduct their business.