What's the best small mirrorless camera? And which one has the best price-quality ratio? NU.nl and the Consumers' Association provide an answer.
Do you not want to carry a heavy bag, but do you think photo quality is important? And do you want to be able to change lenses for a larger zoom range or even better quality? Then choose a small system camera.
The Consumers' Association tests small system cameras for photo quality, film and video quality, resolution and sharpness, among other things. A total of forty cameras have been tested in this category and are widely available.
A small system camera from Sony came out as Best in the Test. A Canon model is the Best Buy.
Best in the Test: Sony Alpha 7C with FE 28-60mm f / 4-5.6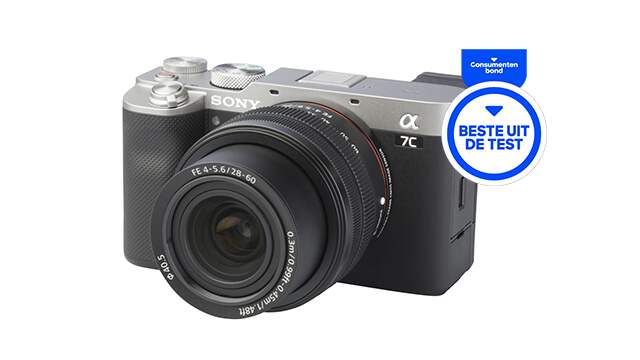 The Sony Alpha 7C is a rather pricey, high quality, compact system camera with advanced features. Despite its limited size, it has a so-called full-frame sensor, which provides better image quality. The camera has a horizontally and vertically tiltable touch screen, the housing has a nice metallic appearance and it has a good grip with rubber inlay.
Thanks to its shape and light weight, the Sony Alpha 7C is easy to carry. It is a bit thicker than other compact system cameras. Unfortunately the menus are sometimes a bit complicated. The menu button is also awkwardly placed.
With this model the video quality is very good and it has a separate adjustable microphone connection. The photo quality is also okay. Resolution and sharpness are both very good and the operation also scores well, despite the less useful menus.
Are there still things to take into account? Yes, the body is compact, but suitable alternative lenses can be bulky. The speed of the photography is sufficient, but could have been better. There is no built-in GPS; this camera needs your smartphone for that. A built-in flash is missing, but it does have a flash connection.
Best Buy: Canon EOS M200 with EF-M 15-45mm f / 3.5-6.3 IS STM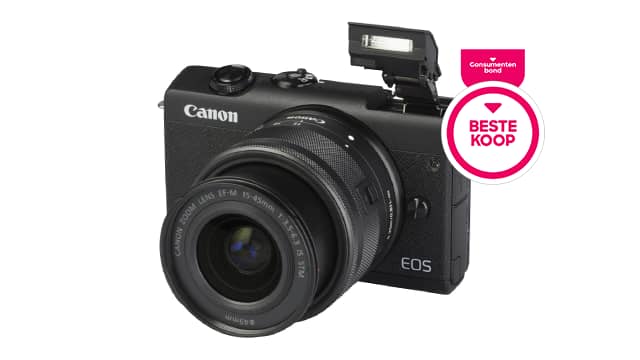 The Canon EOS M200 is a small system camera with some advanced functions. The lightweight camera has a rotatable selfie touch screen, enough space for the thumb on the back and a good grip.
The menu is easy to operate. With this camera you can also add GPS data to files with your smartphone. There is no viewfinder, only the screen. There is a built-in flip-out flash. There is a microphone for sound with a video, but you cannot connect a separate microphone. This model is available in two colors.
The Canon EOS M200 scores a bit less across the board than the Sony, which is Best in the Test, but the Canon is 1,600 euros cheaper.
Accountability
In this column we write weekly about household and technological appliances that have been tested by the Consumers' Association. This is a collaboration between the independent editors of NU.nl and the Consumers' Association.
The Consumers' Association tests thousands of products every year, together with qualified technicians in specialized laboratories at home and abroad. The products under test are bought in the store so that they are not pre-manipulated by manufacturers.
New models are tested as soon as possible after introduction. How fast that is differs per product. The Best in Test is the product with the best test rating. This can also be a somewhat older model, because a newer model is not always better. The Best Buy is the product with the best price-quality ratio.
.