Acasa, My Home

NPO 2 extra, 8.30 pm
Gica Enache's family lives on the outskirts of the Romanian capital Bucharest, with nine children. Two decades ago, the chemist decided to turn his back on society and moved to an apparently idyllic spot in a delta region. The first part of the film that Radu Ciorniciuc made about the family is like the place where it takes place, an oasis. But then the ukaze comes that they have to leave and the family returns to the city. It turns out that the father's choice has had many consequences for his children. So wasn't that choice very much a selfish one?
Cops Maastricht

NPO 1, 8.33 pm
The detectives of Cops Maastricht have their hands full with a murder case with a bizarre motive. On his way to work, the director of a telecom company is knocked off his bicycle, after which he dies. The trail leads the officers to a community of people who claim to suffer from electrohypersensitivity. This ailment would make them hypersensitive to the 5G communication signals that the victim's company is spreading. Is the killer among the members of this action group, or should the perpetrator be sought in another corner?
Shetland

One, 8.35 pm
The new season of the British crime series Shetland starts with a funeral. Jimmy Perez (Douglas Henshall) is at his mother's funeral and worries about his demented father, but duty calls. The detective is called away because of the murder of a lawyer who was shot dead outside his own home. This Alex Galbraith was involved in some high profile cases; for example, he successfully defended a murderer and pleaded in a contentious custody case. Perez is investigating whether these files have anything to do with the murder.
The cut guest

NPO 2, 9.02 pm
Özcan Akyol starts the new season of his talk show The cut guest with a fellow presenter. Robert ten Brink takes a seat in the barber chair and looks back on his youth in the Amsterdam district of Slotervaart. The winner of the Gouden Televizier-Ring talks about his urge to escape from his background and reflects on his successes with programs such as lingo and All You Need Is Love. He also tells about his mother's funeral, which he had to follow from Australia because of his work via an internet connection on the laptop.
the skyltige

Canvas, 9.20 p.m.
(Thriller, Gustav Möller, 2018) The power of the skyltige has been emphasized again in recent months. A Netflix remake (with Jake Gyllenhaal) and a Dutch theater adaptation (with Daniël Boissevain) appeared successively, as well as the BNNVara drama series. Need seemed inspired by the Danish thriller. In the original, emergency services officer Asger (Jakob Cedergren) gets on the phone with a woman who hints that she's been kidnapped. Most films would then switch frantically between Asger and the woman, but debut writer and director Gustav Möller remains within the walls of the control room, where a masterful radio play unfolds. Certainly not the first stay-on-the-line film, but you will rarely find them so tight and minimalistic.
The Kindergarten Teacher

NPO 3, 10.55 pm
(Drama, Sara Colangelo, 2018) Kindergarten teacher Lisa (Maggie Gyllenhaal) pretends to be content with her inconspicuous existence, but in fact she expected more from herself. She is taking a poetry course, but she doesn't seem to be talented. When a 5-year-old child prodigy from her class recites a poem and Lisa pretends it's hers during her class, she is praised for the first time. She develops an obsession with the child, while The Kindergarten Teacher (a remake of the Israeli film of the same name by Nadav Lapid) transforms into a fine unpredictable thriller.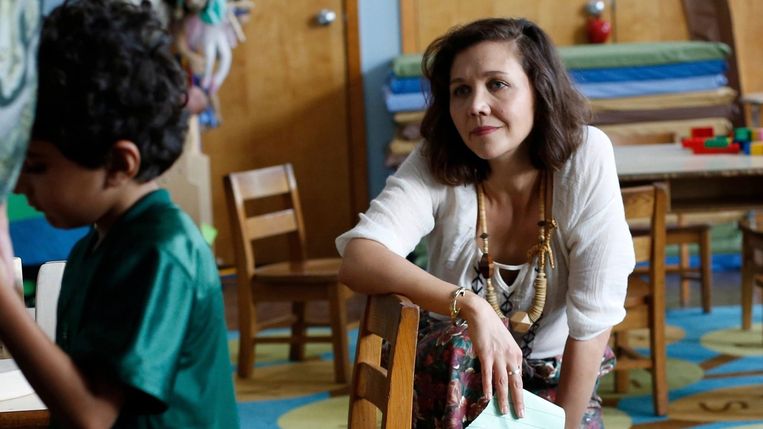 A Perfectly Normal Family

NPO 2, 00.02 hours
(Drama, Malou Reymann, 2020) Emma and her older sister Caroline are really taken by surprise: one day they are told that their parents are getting a divorce and that their father has started hormone therapy. Shortly afterwards, his name is no longer Thomas, but Agnete. Caroline, a cheerful teenager, embraces the transition more easily than Emma, ​​who feels betrayed. Director and screenwriter Malou Reymann based her feature film debut on her own experiences as the daughter of a transgender father, but also manages to lift the film well above her private memories.