The summer holidays seem to be getting very close now, especially with the sunny weather of the past few days. After not traveling for quite some time, we are all looking forward to a week at the beach, or a nice city trip. But which countries allow foreign tourists to visit? And how? We have listed the countries that will soon 'open' for you.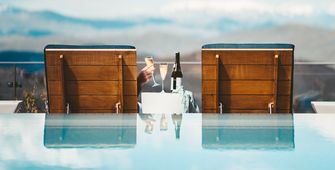 Countries open to foreign tourists
Morocco: June 15
Morocco was closed for a long time, but will soon open again for foreign tourists. From June 15, travelers will be welcome again via the airports and ports of the country. You must be vaccinated or be able to show a negative PCR test. If you come from a country where there are still many infections, you also need a special permit in addition to a test. It is not yet known which countries those are.
Morocco was largely cut off from the outside world for a number of months. Travelers from the Netherlands were not allowed to enter the country and the Moroccan government had suspended all direct flights between Morocco and the Netherlands. Traveling to Morocco by ferry was also not possible. But since last month, the country has been easing the corona measures.
France: June 9
You can visit France again as a foreign tourist from 9 June. This has been known for a while, but is only allowed if you have been tested negative or vaccinated, and you must be able to demonstrate this with a corona passport. The corona passports have not yet been introduced in the Netherlands, but a different type of health certificate also counts. Think, for example, of the certificate you receive after a (commercial) test. You do not have to show a PCR test, a quick test is sufficient.
A holiday with all kinds of restrictions is not an option, so France is also working on the implementation of relaxation. For example, there is currently a curfew (from 9 p.m. to 6 a.m.), but it will expire on June 30. And from June 9, the curfew will not go into effect until 11 p.m. Furthermore, the terraces, museums, cinemas, theatres, stadiums and concert halls will be open again in the summer.
Spain: June 7
As of today, you are welcome in Spain, provided you are vaccinated. But you can also enter the country if you can show a negative PCR test or rapid test, with a certificate. It must not be older than 48 hours. First it was 72 hours. In mid-May, Spanish Prime Minister Pedro Sánchez announced that his country would welcome vaccinated travelers in early June. Britons were allowed to come earlier: from May 21.
The main reason for Spain to reopen is money. The country gets a lot of income from tourism, and has almost lost it in the past year. Sixteen percent of the population is unemployed. That figure is higher among young people: 40 percent.
Travel advice #Spain: From June 7, travelers from the Netherlands (6+) need a negative PCR test or antigen test taken within 48 hours before arrival. This was 72 hours.

The advice remains: travel only if necessary. More information: https://t.co/1OcIA2jb3f

— 24/7 BZ (@247BZ) June 6, 2021
Travel advice
Please note: that countries allow foreign tourists is not the same as a yellow or green travel advice from our government. Many of the above countries are still orange for the Netherlands. That means you'll have to quarantine when you return. Also an important point: if you travel to an orange country, you are not insured.
In mid-May, the government already issued an adjusted travel advice for a number of countries and areas. For example, Finland, Ireland, Malta and Portugal (including the Azores and Madeira) went from orange to yellow. A few countries even received green travel advice: Saba and St. Eustatius. A number of Greek islands also received travel advice yellow, but that was later reversed. All Dutch people who were there on holiday went back or took the quarantine for granted. If you are curious about the travel advice for your destination, look here.
Traveling to countries with positive travel advice? 5 places in a row
Seen a mistake? Mail us. We are grateful to you.